The EcoFormation project is intended to be integrative, as our Swiss Ambassador to Madagascar recently underlined, which means that next to our primary objective of "reforestation" and rebalancing the local ecosystem we work on the social aspects (education, access to water and medical care) and socioeconomic impacts (job creation and micro-enterprises).
On the social level, EcoFormation has offered the villages of the rural commune of Bekoratsaka, with a population of 23,000, access to drinking water in 2017 and a small bush hospital in 2018.
Obstetrical care represents 72% of medical acts in 2019, of which 58% are caesarean sections and post-natal complications. In this context the concern of our doctors is the lack of beds (currently 12 beds) and various medical equipment is lacking.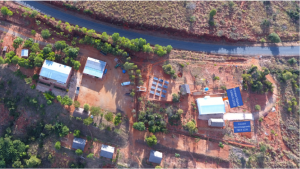 After learning about the situation, Dr Georges Bambule and the Municipality of Montreux, represented by Mrs Jacqueline Pellet and Mrs Irina Gote, organised a support meal bringing together several local personalities. This action made it possible to finance three quarters of the construction of an annex, i.e. the possibility of accommodating 15 additional patients.
Many thanks to the organizing committee and to the participants of this event which took place in the Casino Barrière complex in Montreux!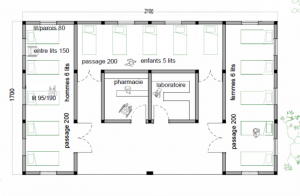 Plan of the annex designed by Charles Dubois, EPFL architecture student.