As we mentioned in our previous news, we produce, among others, spirulina in Madagascar. This production of spirulina is intended to contribute to the fight against malnutrition in the South, a region particularly affected by malnutrition and famine (KERE).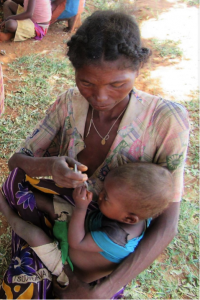 Ainsi durant l'année 2019, EcoFormation à régulièrement envoyé 40% de sa production aux Pères Lazaristes qui ont construits et gèrent des dispensaires dans la zone du KERE afin de prendre en charges les mamans et les enfants touchés par la malnutrition. 312 kg de spiruline a été offerte, elle a permis d'aider durant cette année 2019, 420 personnes.
Ce complément alimentaire hors du commun est mélangé à de la farine de maïs, de manioc ou de riz. Des essais sont par ailleurs réalisés pour produire un aliment complet avec de la farine de criquet (apport en protéine animale) ces petits insectes qui dévastent le peu de plantation dans le Sud de Madagascar, deviendrait une source alimentaire et de revenu.