Negotiations are continuing, our concept aims to distribute 40% free Spirulina to fight against malnutrition, primarily in the southern region called KERE (the region of the island most affected by famine and malnutrition). Thus every day a dozen dispensaries distribute 6 grams of spirulina to each child affected by famine; generally mixed with yoghurt, the form takes again.
Since October 2018, 73 children have followed a 5-month cure.
But, how to cover the costs and not make it a project dependent on international aid? How to cover the costs of production, a sustainable project is a project that is self-financing after a few years of exercise.
To respond to this concern, we have decided to export 50% of the production to Switzerland, distributed for well-being by Clinique La Prairie, the main pharmacies, Bio Cosmetics and in discussion a chain of pharmacies that would cover the German-speaking part of Switzerland.
The remaining 10% will be marketed in Madagascar by large supermarkets at local prices. This medicine will thus also be accessible to Malagasy people who wish to treat themselves to a wellness cure.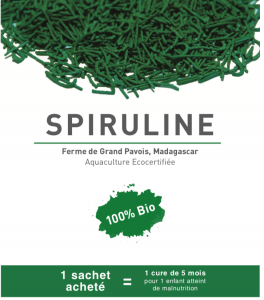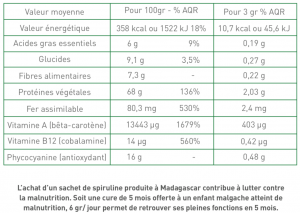 Spirulina from the Grand Pavois in Madagascar, controlled and packaged in Switzerland, is produced in a farm by the sea, is 100% organic and ecocertified.