Tackling forests' massive destruction in Madagascar side by side with local communities
Our mission is to restore primeval forests in Madagascar and lastingly re-establish its unique and threatened ecosystem
Founded in 2010 by two Swiss engineers, EcoFormation is a non-profit organization committed to restoring primeval forests in Madagascar. Working hand in hand with local communities, the project covers 7'200 hectares and benefits approximately 21'500 people from the region of Sofia.
1'300'000
Plants to be produced
740
Hectares to plant
35
People to train
Environmental line
Evaluate the environmental impact
Establish reforestation plans
Implement sustainable management programs
Re-establish biodiversity and protect the ecosystem
Social line
Train and promote education: employability
Create jobs: decrease poverty
Develop food-producing culture: food security
Increase access to medical and hospital care
Economical line
Establish a sustainable management model
Help the creation of microenterprises
Structure and organise sustainably resources exploitations
Guarantee fair trade of agroforestry products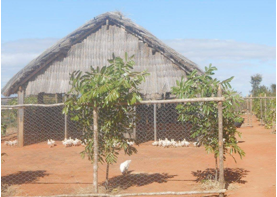 Poultry issued of a natural agriculture, in accordance to the Label Rouge criteria; raised freely in open air, feed with...